"The thing I like most is that my work involves challenges. My days are never boring, there are always slightly different things to solve."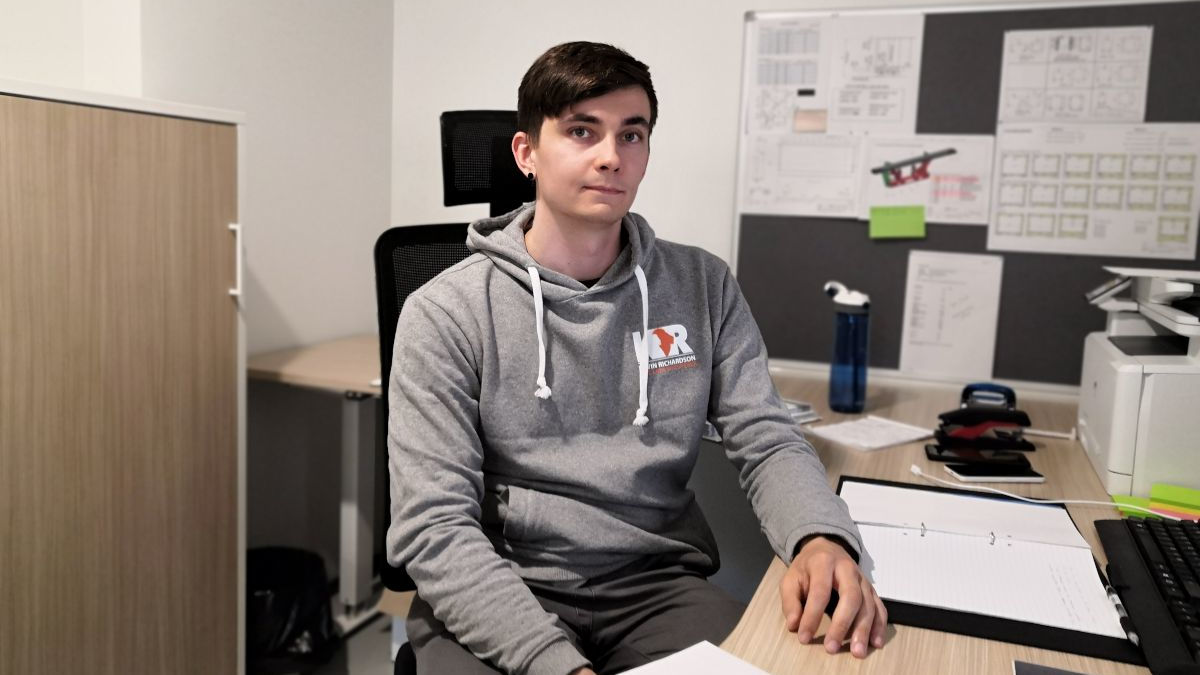 Erik Filippov, Designer, VAK Oy, Vahto
What is your job?
I have just transferred to new duties within the design department. Previously I operated as a chassis designer. I now operate as a product development and pneumatics designer. The change is pleasant for me. When I started working at the design department, we agreed with the design manager that I would later be transferred to the position I have now started in.
What qualifications do you have?
I am a qualified engineer. I graduated from Turku University of Applied Sciences in 2016 after completing the vehicle and transport engineering programme.
What led you to your current profession?
When I started my studies at the university of applied sciences in 2013, I was able to complete my first-year internship at VAK's factory in Vahto, in the chassis equipment department. At the end of the internship, I was offered a summer job and part-time work. We agreed that I could carry out mechanical installer work in the evenings alongside my studies. I continued working at VAK throughout my four years of studies. I was able to complete my final year's internship at the design department. At that time, I truly got interested about design. When my diploma work was completed in June 2016, I was offered a permanent job in the design department, where I have now worked for three years.
What is your normal working day like?
At VAK, we have flexible working hours. I usually come to work between seven and eight-thirty, and my workday is normally eight and a half hours. The first thing I do is check through my emails to see if any urgent work has come past the work lists or should any changes be made to design work that is under way. If there is no incomplete work from the previous day, I check the list to see which work should be started next. On Mondays, we distribute the following week's work with the team. Occasionally urgent mandates can come from the maintenance side on top of the work on the list, which we aim to always solve quickly.
The workday is paced with two coffee breaks and a lunch break. I usually go for lunch with my colleagues at around twelve o'clock. During the breaks, it is nice to have a casual chat with each other.
At VAK, it is also possible to carry out work remotely. When I have particularly challenging design work under way and I don't want to be disturbed, I stay home to work. We have remote software in use, which does set any special requirements for a home computer.
What is the team like that you work in?
In addition to myself, the product development and preliminary design team consists of five other people, and we all have our own areas of responsibility. My supervisor Juuso Laine operates as the team's supervisor, Patrik Laakso is responsible for the technical support of sales, Atte Hulmi operates as the configurator and product development designer, Marko Leinonen is the product structure designer and Ismo Myllylä operates as the technical trailer expert.
What do you like about most in your job?
The thing I like most is that my work involves challenges. My days are never boring, there are always slightly different things to solve.
All in all, I enjoy working at VAK very much. I have nice colleagues, who are always ready to help. I also appreciate that we have our own, excellent staff canteen. Our talented kitchen ladies prepare us homemade and tasty meals, which are also available as lactose-free and gluten-free.