"I appreciate that employees are trusted here and they are given the opportunity to progress in their careers. I enjoy working at VAK very much."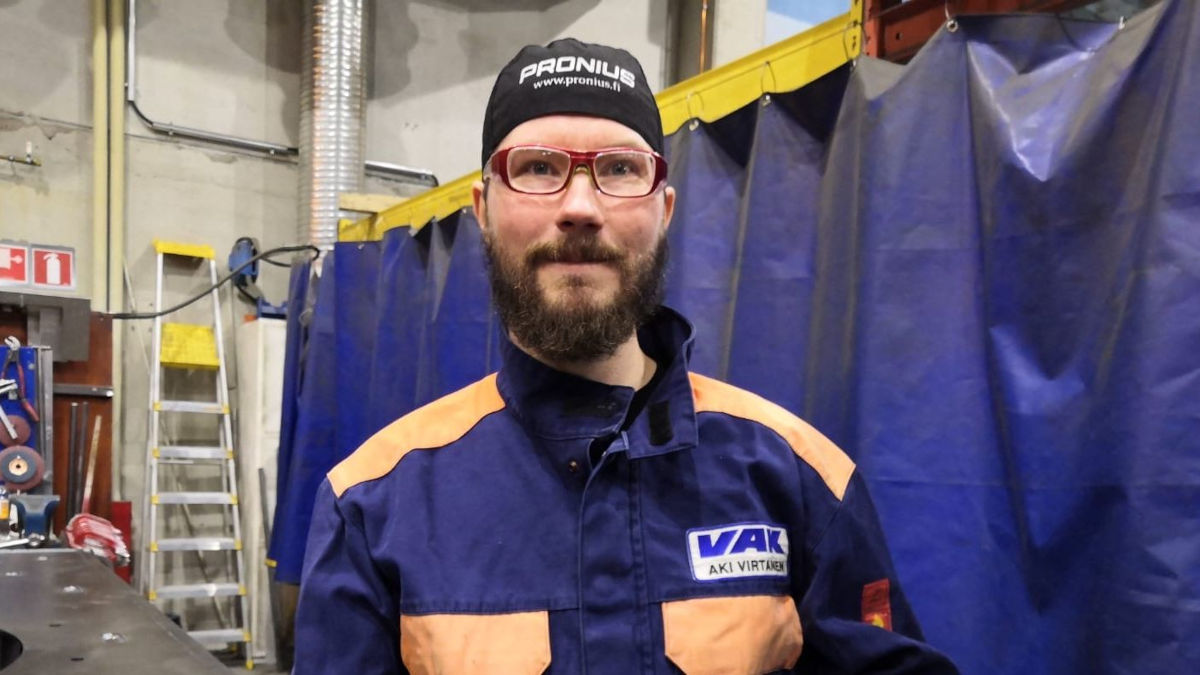 Aki-Erkki Virtanen, Welder, VAK Oy, Vahto
What is your job?
I work as a welder at VAK's factory in Vahto. I mainly weld the front plates of trailers and front trailers, as well as use the welding robot.
What qualifications do you have?
My profession is a fishing instructor, but I haven't done a single day of work as a fishing instructor. I graduated during the period of recession, which strongly affected the employment rates in the industry. Luckily, I managed to quickly start studying towards a new profession. I started my metalworking studies at Turku Adult Education Centre in 2013.
How did you end up in your current profession?
I was able to complete my first internship period at VAK, when I had completed six months of my metalworking studies. I was able to carry out welding work and familiarise in other aspects of the production work of heavy-duty equipment. After returning to school, it was just a few days later that I was asked to return to work at VAK. I immediately responded positively to the request, my interest towards production work had increased during my internship. Initially I worked in part production and then I made it to the chassis department to carry out welding work. I also carried out welding work in other parts of the factory.
I was given the opportunity to familiarise in the programming of the welding robot alongside my welding work. Programming work interested me a lot and I shared my wishes that I would be able to learn programming too. With the Learn-by-doing method, I gradually developed my independent programming skills.
Previously, we programmed a lot of the work ourselves. Nowadays, we mainly only programme the upper chassis and container posts. The other parts are delivered to us as pre-programmed parts.
What is your normal working day like?
I alternate each week by working a week of morning shifts and a week of evening shifts. My morning shift starts at 7 am and ends at 3 pm. The evening shift is an hour longer. The shift starts at 3 pm and ends at midnight. Production work is mainly carried out during weekdays, I rarely work during the weekend.
What was your workday like today?
Today I came to work for an evening shift. At the beginning of the workday, we had a short meeting with the morning shift workers. We reviewed the work that had been completed during the morning shift and were informed, whether any urgent work had come from outside the work list, which would have to be completed during the evening shift.
Then I moved on to work. I turned on the welding robot and started my work at the post construction site, which is where we place the chassis posts to dry. From there I moved to the front plate construction site to prepare the robot for welding. The work shift is paced by dining and coffee breaks, which I spent with my work partner. It's nice to have a chat while eating.
What is the team like that you work in?
My team consists of my work partner Mika Rantanen. We can share the work duties between us, and we aim to make sure that both of us can diversely carry out all different tasks.
What do you like about most in your job?
I think the nicest thing about this work is that you can see the results of your own work. When the robot has completed its work well and you have personally completed your work well, you feel satisfied. I also like the fact that the work tasks vary. I get to carry out rough work as well as more detailed tasks.
I appreciate that employees are trusted here, and they are given the opportunity to progress in their careers. I enjoy working at VAK very much.