VAK's business operations are growing strongly – HCT articulated vehicles and a new maintenance service point provide approximately 40 new jobs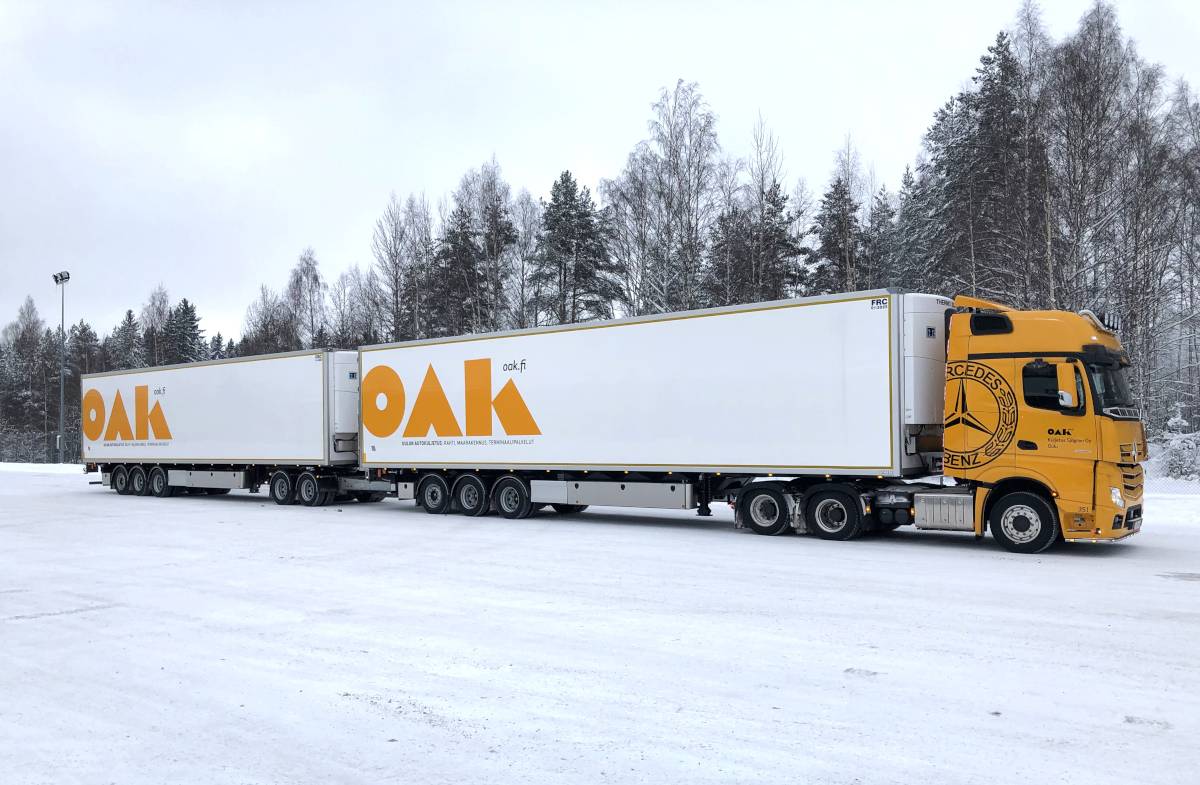 The amended regulation concerning the maximum dimensions of articulated vehicles came into force on 21st January 2019. The amendment allows even longer, up to 34.5-metre articulated vehicles to be used on Finnish highways. The amended regulation has a significant effect on employment. VAK manufactures extra-long trailers and is currently recruiting dozens of new employees at its factory in Vahto. The recruitment of new employees to the new maintenance service point that is being built in Lieto is also about to begin.
VAK's factory in Vahto has already been prepared for a long time to initiate the production of HCT articulated vehicles. With the belief that the amended regulation would pass, VAK built a new approx. 2,000 square metre special body hall in the factory area of Vahto during the summer of 2018, and in the autumn the factory's machine stock was supplemented with e.g. a new welding robot line.
– Together with the Ministry of Transport and Communications, we have been developing the amendment of the regulation concerning the new maximum dimensions of articulated vehicles in Finland. During the pilot that took place between 2015-2018, approximately 60 extra-long trailers were built at Vahto, and a majority have been used with an exceptional permit issued by Trafi. Information collected during the pilot has been assessed by the Ministry, and according to estimations the longer articulated vehicles are suitable for the main road network, says VAK's Managing Director Ilpo Korhonen.
– Customers' interest towards HCT articulated vehicles has been at an excellent level. This is directly visible in the order backlog for this year. In addition to ourselves, central corporations and transport companies have also been waiting for the amended regulation. The new types of articulated vehicles aim for cost savings and a more environmentally friendly operating method. HCT articulated vehicles reduce both fuel consumption, personnel costs and carbon dioxide emissions, explains Korhonen.
The design and manufacturing of HCT articulated vehicles requires particular accuracy and several pairs of hands. Due to increasing the capacity of the factory, there are now several vacancies in VAK's production for skilled workers in various industries.
A new maintenance service point at Avanti in Lieto
VAK shall build a new, full-service maintenance point in the area of West Avanti in Lieto, which will replace the maintenance workshop at the Port of Turku. The building project will start in February 2019 and during its construction phase, it shall employ around ten construction companies. The cost estimate of the project is 8 million euros. The new maintenance service point shall begin its operations in the summer of 2020.
Avanti's maintenance point shall become the flagship of VAK Maintenance services in terms of both its size and its services. A hall with a floor area of approximately 5,000 square metres on a plot of 2.6 hectares shall be built, and it has been designed to also accommodate extra-long articulated vehicles. Upon opening, the new maintenance service point shall employ 45-50 skilled heavy-duty machinery professionals.
Work and training offered to installers
Approximately 10-15 new installers are needed at Avanti's maintenance service point. The recruitment and training of employees shall start in phases already during the spring of 2019. – It is possible to be employed by us via many different paths. I encourage to apply for work at VAK, even if the person does not hold a vocational qualification in the industry. If necessary, we will train a good, motivated applicant ourselves and we will also provide the opportunity for an internship, says Korhonen.
More information about the vacancies available at VAK https://vak.fi/en/vacancies/
More information
Managing Director Ilpo Korhonen, VAK Oy, tel. 040 457 1648, ilpo.korhonen@vak.fi
VAK Oy is one of the largest transport equipment manufacturers in the Nordic countries. In Finland, VAK is the market leader in manufacturing insulated cargo compartments and trailers. The Group employs more than 500 people and in 2018, the company's turnover was more than 76.5 million euros. In addition to the factory in Vahto, the company has nationwide VAK maintenance service points in eight municipalities. The company that seeks growth in the Nordic countries also includes the sales company VAK Sverige Ab which operates in Sweden.