VAK launches a new eco-friendly and energy-efficient eTrailer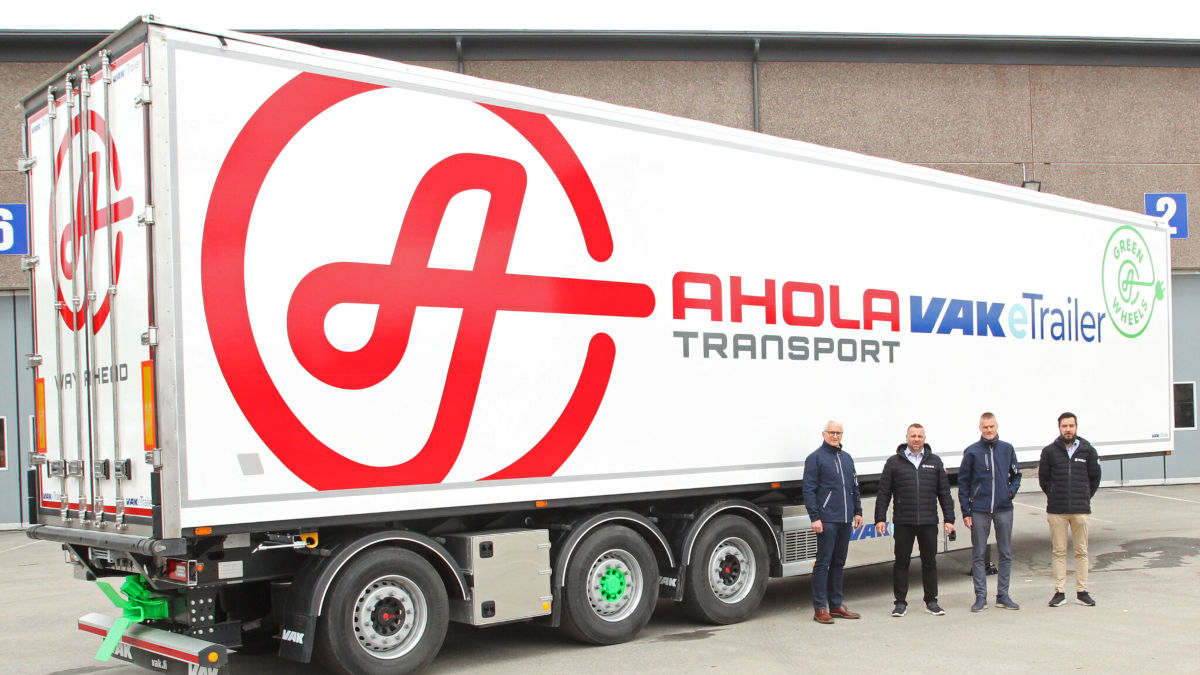 PRESS RELEASE 25/5/2023
VAK emphasises electrifying and more sustainable road traffic. The company started research and testing work on a trailer's axle with electric recuperation and traction assistance in the autumn of 2021, and the project is due to be completed by the start of the summer. The first VAK eTrailer shall move to road traffic piloting in June 2023.
VAK eTrailer is a system that consists of an electric axle with electric recuperation and traction assistance, a battery pack, and a thermal management system and control system. The system is installed on the trailer in an optimal location in terms of weight distribution. Energy recuperated from free-rolling and braking can be used to support the truck's main engine in starting/acceleration and uphill drive situations. The main objective is to save on fuel and reduce emissions.
Promising results from the research project and trial runs
VAK's eTrailer research project was completed in August 2022. Simulations carried out in a test laboratory provided positive results. According to the laboratory tests, the fuel savings totalled 5-10%. The research project and construction of the pilot trailer have involved several partners, e.g., Ahola Transport (drive data from trucks' main engines), SAF-Holland (E-axle, SAF TRAKe), Valmet Automotive (battery system), EPEC (power electronics, simulation, and control system), Turku University of Applied Sciences (motor laboratory tests), Scania Suomi Oy (pilot vehicle/participation in pilot drives), VTT (initial savings potential calculations) and Traficom (legislation/exception permit). VAK received a grant for the research project from Business Finland.
After the research stage, the pilot trailer was constructed for Ahola Transport's use from the beginning of 2023. During the past spring, the trailer was tested, e.g. on Alastaro's motor circuit, to ensure functionalities. Trial runs have also been carried out in road traffic, e.g. on Highway One between Turku and Salo. The fuel savings during the trial runs have been approx. 5-10% compared to situations in which there was no assistance.
Trial runs have ensured the system's functionality in different situations, such as energy recuperation during free-rolling, braking, and assistance when starting/accelerating and at uphills. The trial runs also tested the eTrailer's compatibility with the towing vehicle's different functions, such as, e.g., in connection with using cruise control and a retarder, as well as the system's operations in various deviating situations. During the tests, when assistance was used, vehicle's acceleration of 0-70 km/h improved by approximately 20%. At uphills, the driving speed slowed down about 10% less than in situations without assistance.
– The test laboratory and piloting results have been very promising. As a result of two years of development work, we are now able to launch a modern-time trailer, which supports our promise to develop increasingly more sustainable transport solutions for Nordic road traffic transport, says Ilpo Korhonen, Managing Director at VAK Oy.
– I would like to warmly thank all the partners that have participated in the project. Testing and development work is good to continue from here, adds Korhonen.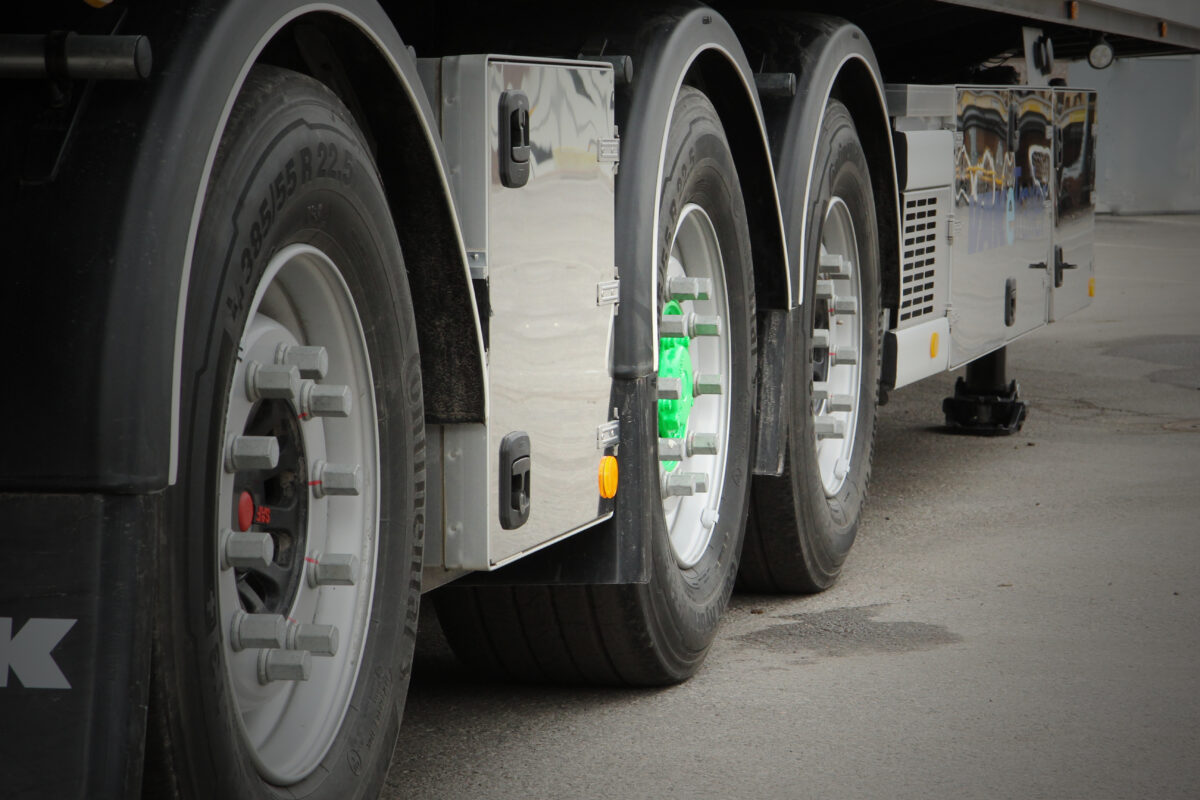 First VAK eTrailer to Ahola Transport
Ahola Transport will be the first transport company to pilot the VAK eTrailer in June 2023.
– We are glad to be able to collect data on the introduction of the eTrailer on a practical level. We can happily say that this is another step towards greener logistics in which each sub-factor has a significant importance on the end result, says Åke Nybolm, Managing Director at Ahola Transport.
– At Ahola Transport, the idea of an axle with electric recuperation and traction assistance arose at the end of 2020 when we began looking for a partner for the development work. It has been particularly great to see the idea become concrete in partnership with VAK and other organisations participating in the research project, Nyblom continues.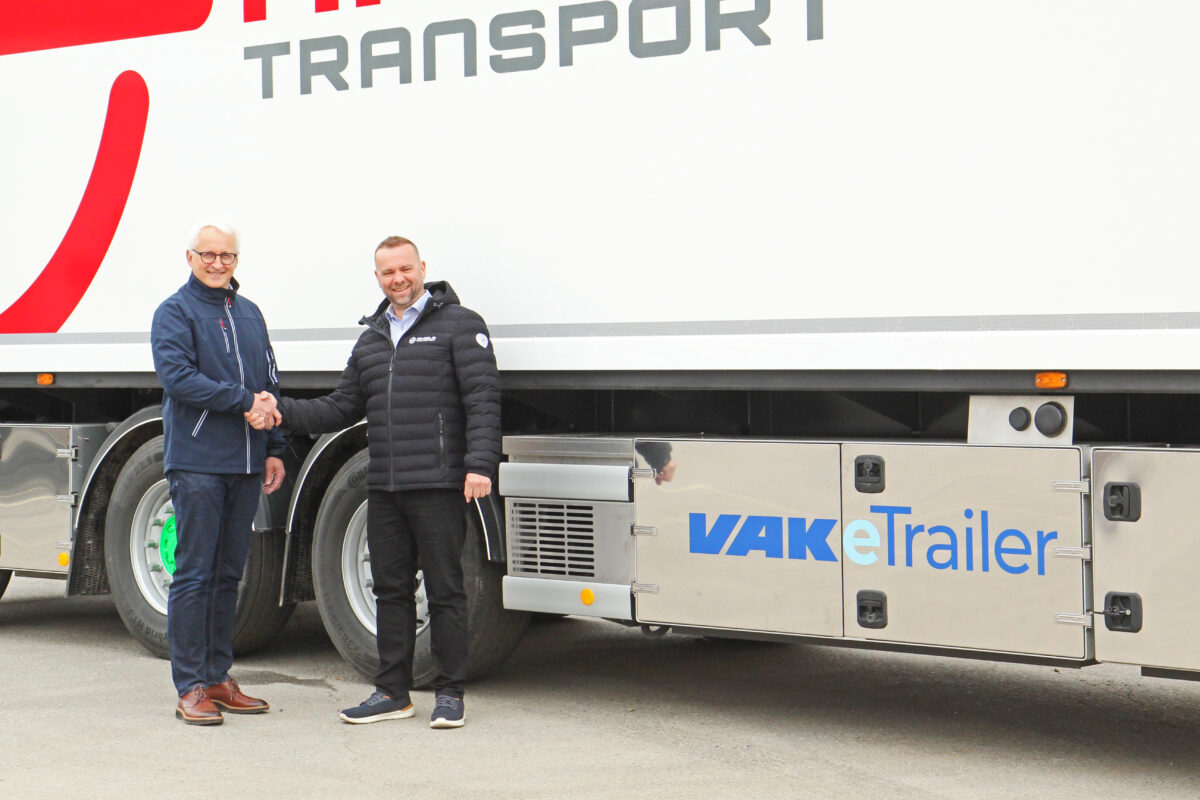 More pilot units are still needed. VAK's objective is to introduce 5-10 units on the road during the course of next year. The company plans to begin the serial production of the VAK eTrailer in 2025.
The VAK eTrailer pilot unit will be displayed to the public for the first time at the Transport Fair in Jyväskylä between May 25-27.
More information:
Managing Director Ilpo Korhonen, VAK Oy, tel. +358 40 457 1648, ilpo.korhonen@vak.fi
Managing Director Åke Nyblom, Ahola Transport, tel. +358 20 747 5358, ake.nyblom@aholatransport.com
VAK Oy is one of the largest transport equipment manufacturers in the Nordic countries. In Finland, VAK is the market leader in manufacturing insulated cargo compartments and trailers. The Group employs a total of almost 600 people, and in 2022, the company's turnover was approximately 93 million euros. In addition to the factory in Vahto, the company has VAK maintenance service points in six localities around Finland and one maintenance workshop in Västerås, Sweden. The company that seeks growth in the Nordic countries also includes the sales companies VAK Sverige Ab and VAK Norge AS, which operate in Sweden and Norway.