V-Slider now also available with a tailgate lift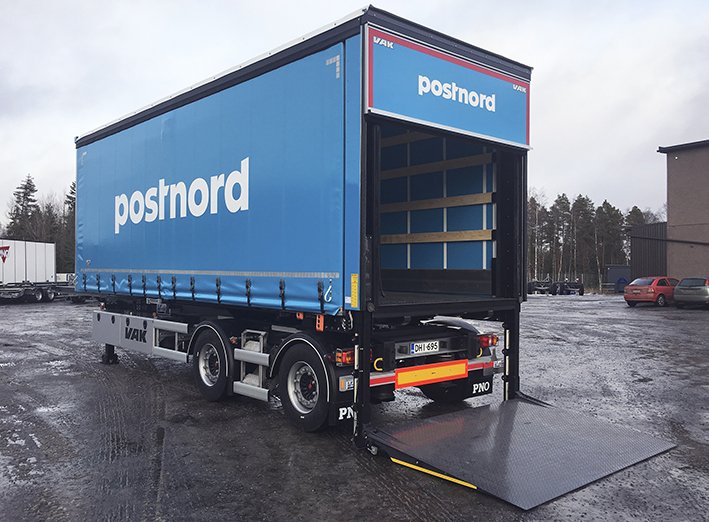 The hydraulic V-Slider that connects semi-trailers to each other can now finally be ordered with a tailgate lift. The new slider is a special lift, where the side posts slide down when using the tailgate.
When the lift is not used, the posts slide inside the back gate of the cargo compartment and the cargo compartment can be slid back and forth as normal on the slider chassis.
– The tailgate lift is necessary in all places, where there is no loading platform and the cargo must be lowered to the ground. The tailgate makes the V-Slider an even more diverse tool, Jarmo Laine from VAK says as he praises the new innovation.
Even without the tailgate lift, the V-Slider is an efficient and multi-purpose tool. Due to the hydraulically sliding cargo compartment, a second full-size semi-trailer can easily be connected to the V-Slider, in which case a full length (25.25-metre-long) articulated vehicle can be achieved. The electrohydraulic power unit, electric switches and mechanical hydraulics valve control the sliding of the cargo compartment in a reliable manner in all weather conditions.
The new type of slider is expected to be a popular product in various distribution tasks. The first V-Slider that was equipped with a tailgate lift was built at the beginning of the year for the use of the Danish PostNord company.
The V-Slider that is equipped with a tailgate lift can be further discovered at Jyväskylän Kuljetus 2017 Trade Fair in Jyväskylä between 18th – 20th May.
More information:
VAK Oy / Jarmo Laine
tel. 020 7656 302