Half a century and close to 20,000 products – VAK now celebrates its 50th anniversary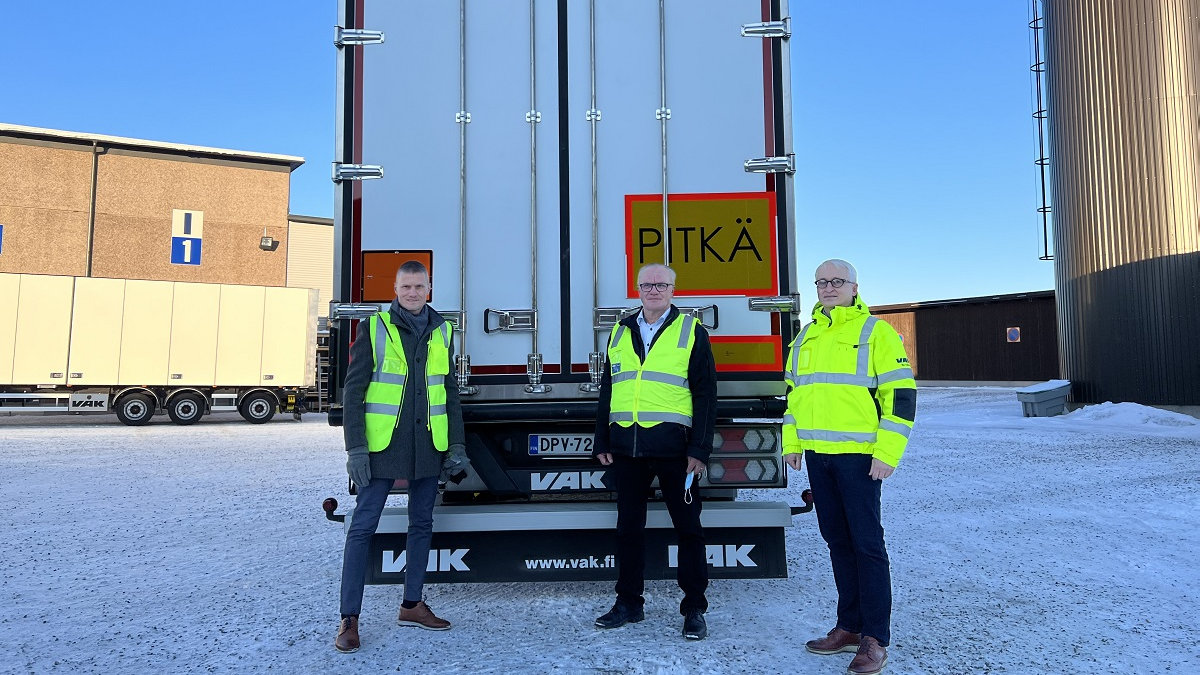 Picture: Sales Director Matti Virtanen (left), founder of the company Lassi Virtanen and CEO Ilpo Korhonen.
PRESS RELEASE 10th OF JANUARY, 2022
VAK Oy, the market leader in manufacturing temperature-controlled cargo spaces and trailers, celebrates its 50th anniversary. The eventful story of this family business began when the founder of the company, Lassi Virtanen, started his business at Vahto on the 1st of January back in 1972. Today, the VAK Group has grown to be one of the most significant manufacturers of trucking equipment in the Nordic countries.
Lassi Virtanen's story of success began at his father Lauri's metal workshop. Lassi enjoyed spending time in the workshop so much already as a child that his father decided to install a dedicated handle on the door of the workshop for his son. This way the boy could watch and learn while his father worked and even help him whenever Lassi wanted.
The father of the family died too young when Lassi was just 12 years old. However, he did have enough time to instill the value of work and diligence in his son. As soon as he completed his military service in 1972, Lassi Virtanen founded an auto body workshop in his father's old workshop and named it Virtasen Autokoritehdas Ky.
The guiding principles behind Mr Virtanen's company have always been the values he learned in childhood – appreciating the value of work, diligence and willingness to serve all customers in the best possible way. In his industry, Lassi is known as an innovative developer who comes up with solutions for even the most challenging transportation needs. For example, Lassi and VAK Oy have played an important role in the development of high-capacity transport (HCT) vehicle combinations. Indeed, most of the HCT combinations operating on Finland's roads and highways are manufactured by VAK. In total, nearly 20,000 products have already been delivered by the company's assembly lines during its history.
Today, VAK has grown to be one of the most prestigious and valued companies in the industry, with its very own service and repair chain as well as sales companies in Sweden and Norway. The VAK Group employs more than 550 experts in heavy-duty transportation.
In 2017, the president of Finland Sauli Niinistö awarded Lassi Virtanen the title of Industrial Counsellor. The VAK Group and Lassi Virtanen have also received Southwest Finland's Provincial Entrepreneur Award in 2008 and the Entrepreneurial Spirit of Turku Award in 2010.
As a company, VAK celebrates its 50th anniversary with events tailored for customers and staff alike.
Order backlog reaches a new record – plenty of open positions
Ilpo Korhonen, CEO of VAK Oy, tells that most of the capacity for 2022 has already been sold.
– 'The record high order backlog means a bright outlook for us, and we do expect the demand level to remain positive throughout the year. Unfortunately, however, the market still suffers from supply problems with semiconductor components and some manufacturing materials. Also, material delivery times have increased and prices overall are on the rise. Delays in chassis deliveries due to production problems at car factories also put pressure on us to adapt our production schedule almost on weekly basis', Korhonen tells.
– 'Due to strong demand levels, we are experiencing constant shortage of new staff. Even now, there are currently about 20 open positions at the Vahto factory and new experts will be hired at VAK service points across Finland during this year. I encourage you to apply to work for us even if you do not have a professional degree for this industry. If needed, we train a motivated job seeker ourselves and we can also offer apprenticeship option. We have new modern workspaces and a nice atmosphere of collaboration. Welcome to work for the market leader!', Korhonen urges.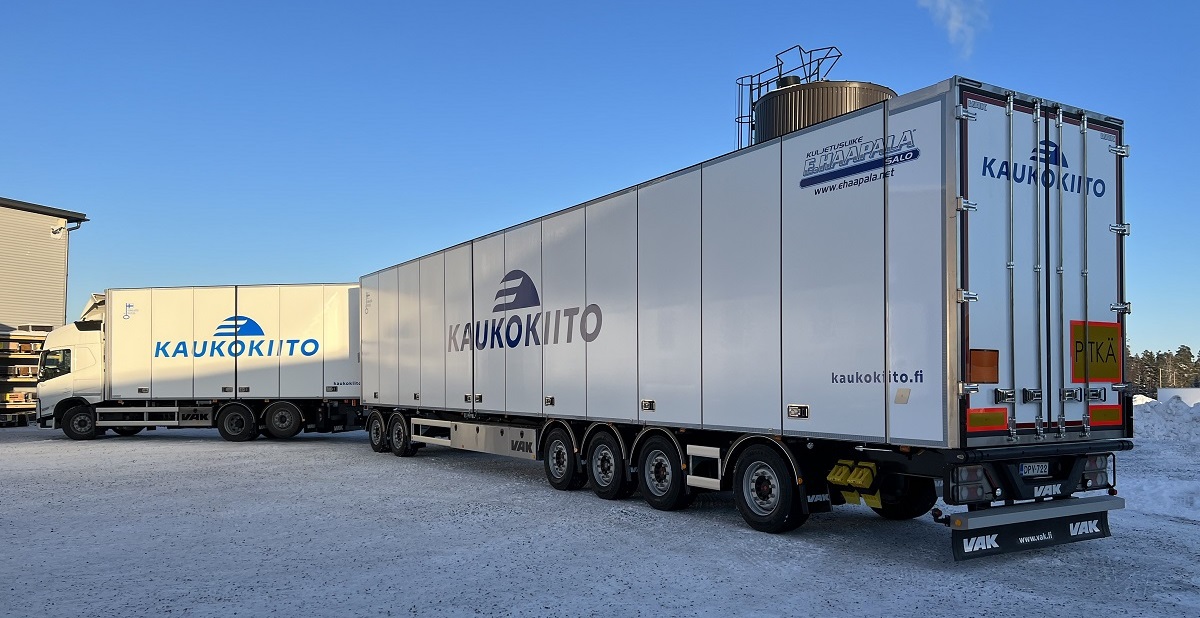 For responsible transportation – Electric Assisting Axle for Trailer research project underway
VAK wants to be a pioneer in more responsible traffic, and to celebrate our anniversary we will launch a new slogan – For responsible transportation. Our company is actively exploring new innovations for increasing the energy efficiency of road transportation and reducing emissions.
One very concrete research project of VAK is our study of an electrically assisted "E-axle" that recovers braking energy of a trailer. For example, E-axles are useful in transition to lower-powered tractors, and to add a driving axle into a more optimal position in a combination thus improving traction in extreme situations. A significant part of this research project is to develop and test the control system and to study recovery of braking energy, energy storage in batteries and the behaviour of the assisting axle under test conditions.
In Finland, transports very often happen in two directions, and there is a much lighter cargo load in the other direction. With the assisting axle, energy efficiency can be improved with the solution of a lower-powered tractor, and by using stored energy in the battery pack in uphills and starts. The assumption here is that the E-axis, which recovers energy and provides additional traction and power, is well suited to the Nordic road network, since the need for maximum power is not long in duration.
VAK has received a grant from Business Finland for the E-axis research project. The research project started in autumn 2021 and it is due to be completed by the summer of 2022.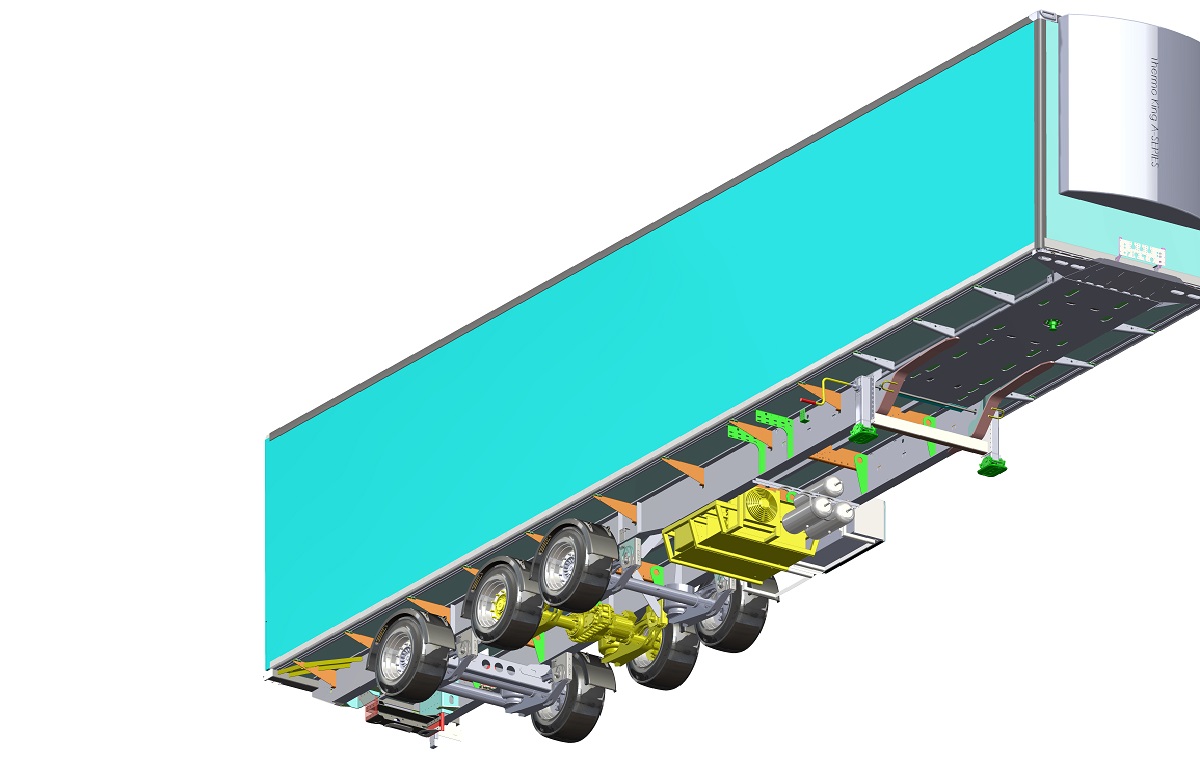 Further info:
CEO: Ilpo Korhonen, VAK Oy, tel. +358 40 457 1648, ilpo.korhonen@vak.fi
Sales Director: Matti Virtanen, VAK Oy, tel. +358 44 382 7267, matti.virtanen@vak.fi